[ad_1]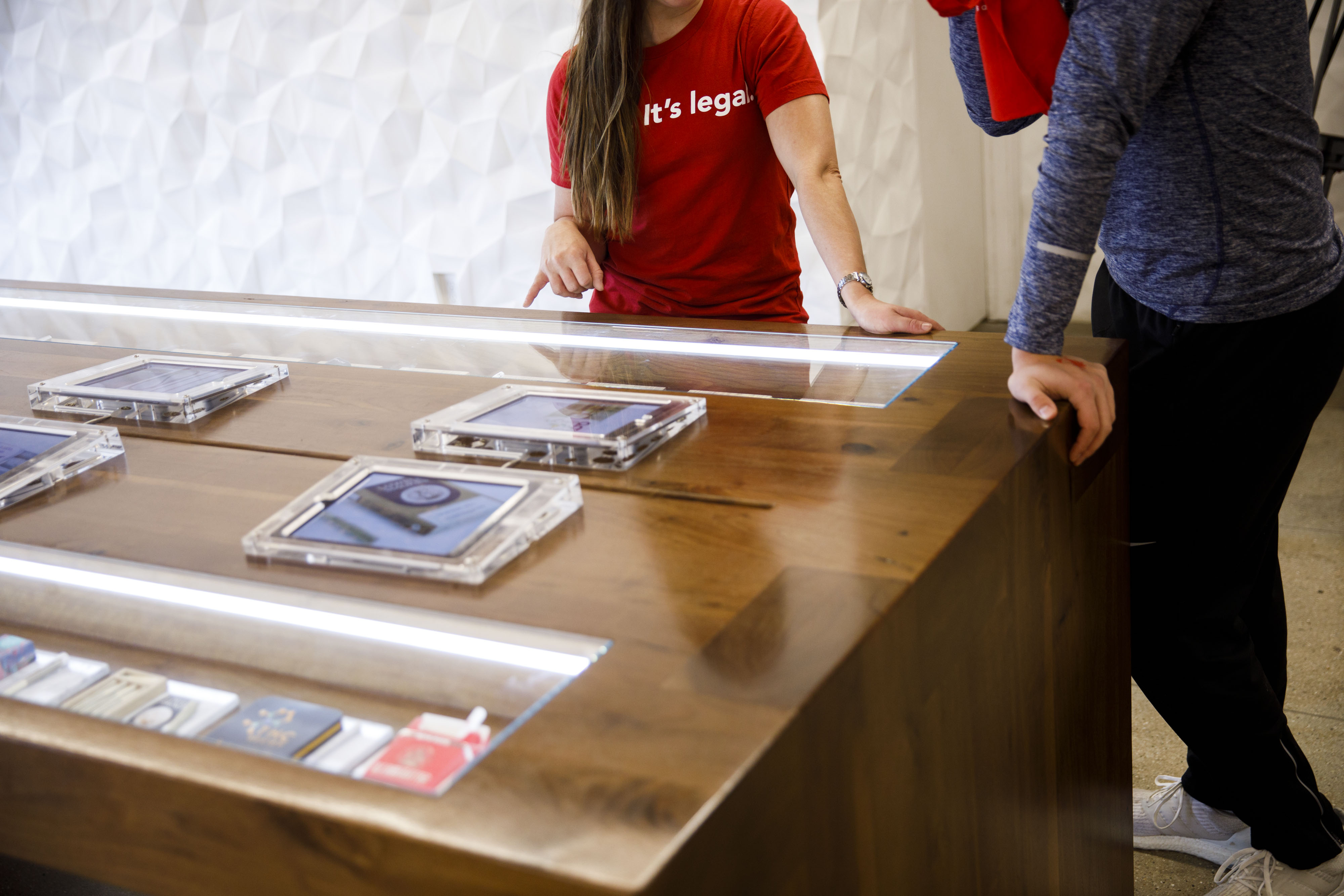 When cannabis operations were deemed essential businesses by the state of California, Jacob* (whose name has been changed for privacy reasons) breathed a proverbial sigh of relief. As a Los Angeles-based account executive for a cannabis manufacturing and distribution company (which will also not be named) headquartered in Oakland, California, this classification made the 27-year-old feel as secure as he could as the state and country began to shut down all but its most necessary functions.

"That was a blessing, not to worry about whether or not we're gonna have jobs," Jacob told VICE. According to Jacob, his company has manufacturing and distribution licenses that allow them to purchase raw cannabis materials from its network of around 50 farms in Humboldt county, California. "We send a van and a guy with cash to buy these raw materials, hundreds of pounds of flower at a time or 50 to 100 liters of cannabis distillate, and we essentially flip them by turning them into consumables," Jacob said, by making pre-rolled joints, concentrates, and infused products to sell to cannabis dispensaries, who in turn sell product to the everyday weed buyer.

Back in February, he chronicled his pre-COVID workweek, which involved driving between dispensaries for one-on-one meetings, party-hopping with free samples, and dealing almost exclusively in cash (banks are still hesitant to work with cannabis businesses due to the drug's federal illegality). Now, he spends time on conference calls and makes quick visits to move products with minimal in-person contact. "We had to suspend all our marketing operations," he said. "It's hard to build relationships that way."

Just because the social element has been cut out of his work life doesn't mean COVID-19 has been bad for cannabis sales. "The level of competition has been going down," he said. "There's just definitely not the same bandwidth of competing brands that were there before."

This is what an average week for Jacob looks like in the cannabis industry. Originally, VICE spoke with Jacob before the pandemic, but we have added additional context from subsequent conversations to illustrate how his work has changed.

There's a crazy territorial shift that just happened to my benefit: Somebody left the company and I got all their accounts. Now, I'm making double what I was making before, and it's only gonna go up—but, it's like the Dot Com bubble. Any company in this business right now is kind of trAeading water, because a shit-ton of Canadian investors that have been pouring billions and millions of dollars into these different startups trying to bet on a winning horse. There's only so many shelves. There's only so many licensed stores. So really, it's like a dog fight for shelf space.

Most of my day now, like today, is just driving around in my Infiniti with all the windows down and the sunroof rolled back and just picking up the phone for people that want to order more shit, and then going out to these stores and just picking up money that they owe me, since it's an all-cash business. It's not where I expected my life to go by any stretch of the imagination, but it's thrilling.

The reason that I actually came out here in the first place is because I was in love with hip-hop, but even after doing internships while managing a clothing store and working at restaurants, I couldn't get a job at Universal or Sony—a top-tier record label that had the funds to pay me the type of money I was trying to make. So I was scrolling through the internet one day and found a job as a brand ambassador for a weed company, and that was the beginning of a beautiful fucking thing. I was instantaneously thrown into the world of licensed dispensaries, all these different brands and companies and every different market segment. You've got flower, edibles, vapes, topicals, tinctures… there's a million bajillion different companies out there.

I've worked at three different companies; now, I'm an account executive with a salary and shit. They really threw me into some serious responsibility, but I picked it up and ran with it right away. It took me like the first five or 10 stores to really kind of see some momentum behind our brand and getting the name out there and having people be like, "Oh yeah, I've heard of you before." And then after like 15 stores, it just took off.

I make 7 percent commission, which is really high for the industry. Most people make like, 2 percent. I draw commission after $65,000 in sales, so anything past $65,000, I just make 7 percent of all sales monthly, so that's really cool.

What I love about my life is that a year and a half ago, I was scrubbing the shit off the back of toilets, trying to make ends meet. Now, I'm literally a corporate drug dealer overlord. The amount of shit that I'm moving is like… 20 years ago, you would have been locked up for 20 or 30 years.

I got to start my day off picking up some money. When I was there, I talked to the dispensary owner about buying the "light dep" flower [cannabis grown in a greenhouse, but deprived of daylight] we're white-labeling for a big distributor at a halfway pricepoint. It's not as expensive as "indoor" cannabis grown in a warehouse, because you don't have to manipulate the climate, and it's a little bit better quality than cannabis grown outside, or "outdoor."

We're trying to figure out ways to maximize our margins beyond the products that we currently have available in our catalog. Most people are trying to integrate—you want to try to become the most-well rounded catalog possible. That makes you the plug. You just hand somebody a menu and you're like, Alright, what do you want? And then they can't tell you they're not looking for at least one thing and your book of business.

Later today, I'm taking a couple of meetings. I'm prospecting new shops out in the San Fernando Valley and in LA proper, so I'm going to visit a couple different areas. Our goal is to just take over the state of California entirely and then eventually we're gonna try to go to other states once once this market matures, and we actually find a way to make our operation profitable.

State governments are basically setting up the rules so that your product can't cross state lines. So, all your manufacturing and cultivation and distribution, it's all got to happen in the state of legality. The two to three year plan is like, finishing California and then expanding on outwards, and the end game for us is like to get acquired or sell to a bigger corporation.

I'm sure we're gonna hit some financial roadblocks. Places get robbed. It's an all cash business and things get lost. That's one of the toughest things regarding my actual pay. Now, I get a direct deposit, but when I first started with the company, they were giving me a wad of cash and saying, "Here's your paycheck."

And as far as general finance in the industry goes, people never pay their bills on time. We cannot bank with the federal government and none of these stores can either, because it's still a Schedule I federally illegal substance, so none of these big banks really want to keep our money. The government is watching us like a hawk, tracking product going from one side of the manufacturing warehouse over to the distribution side. .

These stores just get away with using us as a credit card and saying like, "Yeah, man, I'll pay you for the stuff in 30 days, front me this product for 30 days." And then 40, 50 days go by and you're blowing these people up and they just won't pick up the phone, because they don't have the money.

I wish customers could just order directly from us, because I feel like we could sell like a ton of product directly to our consumer base.

I knew I broke through in this business when I got invited to Paris Hilton's birthday party to give out free joints and take pictures with A-list celebrities. It was great. We were invited through the flower company that we're white-labeling for. And I think it's gonna be the first of many, honestly. I think a lot of high-profile clients are gonna give us a platform to try to do some brand integration into the mainstream.

I think it's really cool that we have an opportunity to hang out with famous people and get them to give us a name-drop or a shoutout. I think the more appearances we make and once we really start generating a profit to be at clubs and over at smoke lounges once those are legalized… I think it's gonna be sick. The future is really interesting. When I first got to California, nobody was trying to invite me to Paris Hilton's birthday party, shit!

Just to get myself into this position, like I had to make a lot of sacrifices. So I'm really proud of myself. Like even my parents who raised the kid on the East Coast hoping that I'd be, like, a successful lawyer aren't disappointed. They're actually really impressed that I've been able to kind of like build a foundation for business and do outside sales. I mean, it's a corporate job… it just so happens in the weed industry.

Before this, I was doing regular, in-store marketing events at dispensaries: We set up a table and we give away t-shirts, lighters, and a fat discount on the product sold in the store to get people to try it out and build some loyalty in our consumer base.

It's wild, building a brand from scratch. It's only been two and a half months into the year, but now I think I'm at around 61 active accounts. When I first started this job, I was wondering who was going to order from me. Now, I really don't even have to hit people up anymore. They just hit me up all the time, because it's just on a cycle, two week periods at a time. People order shit, they need more shit.

DAY FOUR
I don't have to leave my house till 2:00 or 3:00 in the afternoon most days, just to go around and pick up money, and stop by shops and do tabling events and product demonstrations. Some days I literally have to start at 9:00a.m. and drive all the way into a different city so I can pick up cash, but a lot of days of the week are just like work from home, wake up, check emails, follow up with prospects, follow up on accounts receivable.

But a lot of it is just phone calls and emails, once you really get out there in the field and have your relationships filled out. Our PR exposure is looking really solid right now. I'm hiring somebody to actually go out and do events for me. It's a lot for me to balance right now: Every day is booked, every day is extremely busy between the money and the phone calls. I'm always on the road and traveling, meeting people.

Before it got canceled, we were preparing for a big industry event in Palm Springs, the Hall of Flowers, and we're working with a company that sells the flower that we've been white-labeling. They're the ones that got us invited to the party, because they have some really high-profile investors.

Good old flower is popping off right now. It's what you think about buying when you want to go to a dispensary most of the time. Me personally, I'm not a big edibles guy. I eat edibles, and I smoke a ton of wax, but flower is the staple, the classic, and that's really where I see the future.

When we heard that San Francisco was on lockdown, the first thing I did was call my CEO. I was like, "Hey, man, like you guys are in Oakland like what's going on?" And he told me our manufacturing license doubles as a medicinal manufacturing license, so cannabis dispensaries and manufacturing and distribution companies have been deemed a medical necessity.

It's really good news for us because as a startup, with the economy crashing, it could put a nail in the coffin. It's scary, because with retail trends falling off at such a quick rate, we've still got bills to pay just like everybody else.

When the outbreak first hit in early February, we were getting crazy amounts of orders. I did close to like 50 G's in a day. It was nonstop phone calls and emails, people were stocking up like it was Costco! We got cleaned out super fast. Luckily, we have a really good manufacturing and distribution team that was able to like get stuff processed and ready to sell again, but today, sales have been ghosted. It's like everybody's stocked right now, and people aren't seeing the same volume of traffic come through the store, because everybody just stocked up last week. So next week, who knows, man, it could be like the Hunger Games out there.

I'm in LA, so the virus is here. It's crazy with everybody walking around in their masks and stuff. The moral that I see here is that weed is just as important to people as food or

toilet paper. Because if you take away the weed from the people, you're, you're gonna cause panic. It definitely has medicinal properties.  I've spoken with cancer patients, people with chronic sleep disorders, eating disorders, you name it. Weed is keeping the world going around right now!

Today I'm at home and basically just putting together a plan of things that I can do once this clears over, besides my usual accounts receivable collections and figuring out who needs to order. As far prospecting and doing my in-store events, we're in isolation, so it's hard to take up more market share right now. But, I have a huge book of business and a lot of people calling me still so even if the growth is stagnant, hopefully we can just maintain what we're doing.

I think with all the contributions that cannabis companies are making in state tax dollars and revenue, it only really made sense for us to stay open, Otherwise, all these like private equity-backed startups that would have just gone under. For the course of June, July and August, every single one of our territories like the South Bay, up near Santa Cruz, Sacramento, SF, LA, San Diego, absolutely took off.

Still, it's not all perfect. We had to suspend all our marketing operations. We had to reduce some of the people off the manufacturing line. We're paying temp workers to roll joints for us right now.

It's kind of weird, trying to go into dispensaries and having a conversation with somebody that's gonna buy in bulk from you, and they can't even see your face. There isn't really any window for me to go in and set up a table and have a one-on-one with people walking into a dispensary and letting them know, "Hey, we're trying to promote our joints, like we're running a deal on them, try them out, they're dope!"

But, I think all the work we did in the last year and a half really, really set us up well to take off and maximize the capacity of what our distribution network was capable of doing this summer. Today, we're about to hop on a conference call in a couple hours and talk about our goals and where we're at for Q3 right now, and it's all good news.

That's the weed business right now. I see good things. I see a positive future. I see it helping a lot of people. And I see it making me a wealthy man.

Follow Katie Way on Twitter.



[ad_2]

Source link